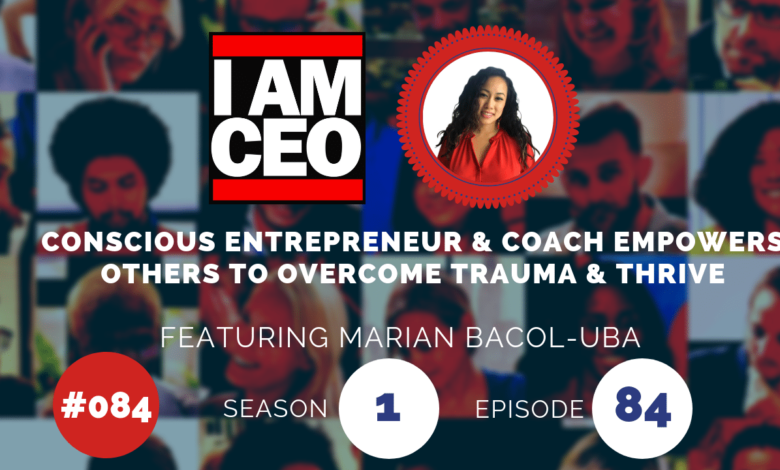 Marian Bacol-Uba is a Conscious Entrepreneur, Transformation Coach, Speaker and Author. She empowers men and women to overcome trauma and adversity and thrive in mind, body, and soul through holistic wellness and conscious living.
In addition to offering one-on-one coaching and online group programs, Marian speaks and advocates for sexual abuse awareness and mental health. She has appeared on numerous TV shows, online publications, and podcasts such as CBS Los Angeles, Channel LA-18, The Filipino Channel/ABS-CBN, Thrive Global, Elephant Journal, Bustle, CEO Blog Nation, Miami Under 40, The Tao of Self-Confidence Podcast, Daring Woman Podcast, and more. Marian is also the host of Thriver Lifestyle Podcast and Mondays with Marian on YouTube.
CEO Hack aka "Thriver Basics": Meditation,  the app Insight Timer and journaling
CEO Nugget: Courage isn't the absence, it is having fear but still moving forward.
CEO Defined: Being in control and creator of your own life. You have the power to do whatever you want. You can create the life of your dreams and make it a reality.
Website: http://www.marianbacoluba.com
Instagram: https://www.instagram.com/mbacoluba
Facebook: https://www.facebook.com/MarianBacolUba
Twitter: https://twitter.com/marianbacoluba
Podcast: http://www.marianbacoluba.com/podcast
YouTube Channel: http://bit.ly/2uxKuQN
Check out one of our favorite CEO Hack's Audible. Get your free audiobook and check out more of our favorite CEO Hacks HERE.